As you guys may know, I am a senior in high school. My school is awesome enough to give us a week off of school for a fall break, how cool is that? Did I do anything productive during this break? Nope. Did I use my break time to READ? Of course!
I thought I'd bring this hybrid post to the table to summarize my reading during fall break. I read three whole books over break, which I was pretty proud of. I was hoping to get to more, but I'd say three's nothing to sneeze at. Enough rambling, here are the books I read during fall break!
---
Pretty Girls by Karin Slaughter
4/5 Stars
CW: sexual assault, violence, torture
If you're at all squeamish about gory details, I would recommend staying away from this one.
Karin Slaughter very well known in the thriller genre, but this was her first work that I read. The (albeit destructive) family dynamic in this book was one of my favorite aspects. I love books that explore the darker sides of familial bonds, and Pretty Girls certainly delivered. Every family member had their own way of coping with their loss, although none were very healthy.
It did not take long for me to be totally enthralled in this novel. Not to mention how twisty it was! My biggest gripe with Pretty Girls is the characters. While the characterization was strong, it did seem like some tropes were really determining how they reacted.
Pretty Girls is a strong thriller read that will keep you on the edge of your seat, but only if you have a strong stomach!
---
Sadie by Courtney Summers
5/5 Stars
CW: pedophilia, sexual assault, violence
Apparently i wanted to follow a theme with my books this week. As a young adult book, Sadie is a little more toned down than the brutality in Pretty Girls. I also read this one as an audiobook which was PHENOMENAL. It's read by a full cast of characters and everyone really brings the story life.
The best part of this story is the characters. Courtney Summers sure knows how to deeply explore a character, and she's not afraid of making her characters unlikable. I live for books about the moral grey area.
I'm also a sucker for the small town horror aesthetic. As a podcast listener, I was super intrigued by that aspect of the book. While I did enjoy the podcast sections, I think I was a bigger fan of Sadie's chapters. I also have to admit that I likely would not have enjoyed Sadie as much if I didn't listen to it.
---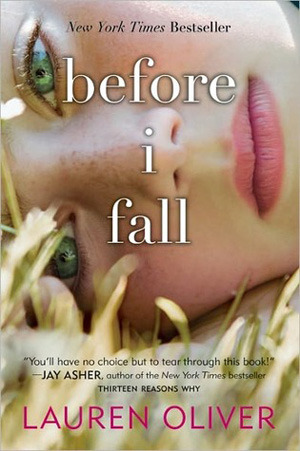 Before I Fall
4/5 Stars
Before I Fall was the oldest book on my TBR (even if it wasn't on my October TBR). I've been interested in this one since 2013. I've read a few Lauren Oliver books before this, and I was really excited to see what this one brought to the table. While Oliver's writing style made this book easy to read, I did have some issues with this Ground Hog Day-esque story.
I enjoyed the simplistic writing that propelled this story forward. The style was very light despite the high page count, which made this a great read to finish up my week. I also really liked that this book featured an unlikable main character. Samantha did undergo quite a character arc, so her insensitive attitudes did change.
The side characters, on the other hand, did not go through any of these pleasant changes. It is understandable since they weren't stuck in the same time loop as Sam, but I did wish that she would have helped open their eyes to their cruelty.
I was not a huge fan of the ending of Before I Fall. I expected the story to take a completely different direction than it did, so I was a little disappointed. I still felt like Sam made some questionable decisions by the end of her journey even though she was supposedly a better person.
---
Overall, I had a very successful reading week last week! I more than doubled my October book count just in one week.
Have you guys read any of these books? If you want to pick up your own copy, check out my shop page. Let me know what you thought about them in the comments!