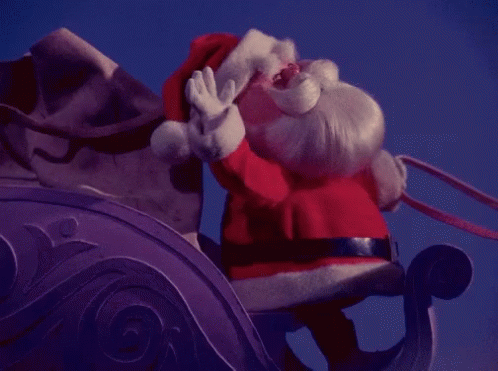 Santa has a very long trip around the world this month (about 316,899,308 miles, according to Google). Saint Nick must get bored in all this travel, but I have the perfect solution: audiobooks! Audiobooks are perfect for long drives or long sleigh rides. I recommend my top five favorite audiobooks for Santa this Christmas Eve!
---
Thrillers are some of my favorite types of audiobooks to listen to. Karissa Vacker's performance in Bonfire is truly underrated as she delivers the story a twisted small town in Indiana (books get bonus point when they're set in your state, right?). I swear this audiobook gave me chills multiple times just because of the story delivery. It's perfect for Santa to grab Bonfire to keep warm on a chilly night.
You is another chilling read that will keep you captivated for hours while flying around the world. Although Santa might not feel so alone after Santino Fontana laments his recollection of Guinevere in second person, making the listener feel the they story is directed at them. I loved Santino's work in Crazy Ex-Girlfriend, and his performance here shows how versatile of an actor he is.
Behind Her Eyes by Sarah Pinborough – Narrated by Anna Bentinck, Josie Dunn, Bea Holland, and Huw Parmenter
Behind Her Eyes is known for its crazy twist ending and I think that the audiobook really highlights that twist. Of course I had to include more thrillers on my list of favorites. This story is mainly told through dual perspectives from the two main female characters. The dynamic between the different voices adds a fresh and interesting element to keep Santa listening all night long.
The flowery lyrical writing in this story was perfect for an auditory experience. What really sold me on this audiobook was Jim Dale. His narration really took me back to my Pushing Daises day since he was the narrator in the TV series. I honestly think that I would not have enjoyed this story as much if it hadn't been for the audiobook. If Santa needs a break from my other dark recommendation, this book would be perfect.
I have mixed feelings about this book as a whole, but I did enjoy my time listening. This is the first and only book I have listened to that was narrated by the author and I found it to be very refreshing. I love John Darnielle because of his role in the band the Mountain Goats. His writing both in song lyrics and prose is relatively similar, so that helped my enjoyment of the story.
I clearly have a darker taste in books that isn't exactly fit for the cheery holiday season. But maybe Santa needs some juxtaposition for all that holiday happiness. Either way, these are my favorite audiobooks of all time! Do you like listening to audiobooks? What are your favorites?
---
This post was brought to you as part of Bookending Winter, hosted by Clo @ Book Dragons and Sam @ Fictionally Sam. This prompt hosted by Imogen @ Imogen's Typewriter, so don't forget to check out her post!