Forgive Me, Leonard Peacock by Matthew Quick
5/5 stars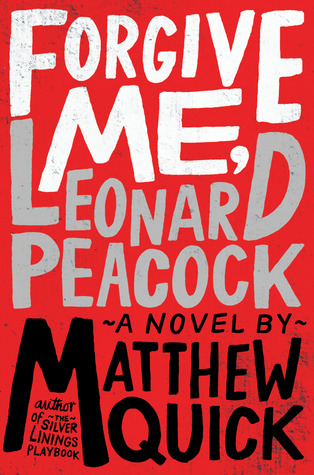 Today is Leonard Peacock's birthday. It is also the day he hides a gun in his backpack. Because today is the day he will kill his former best friend, and then himself, with his grandfather's P-38 pistol.
But first he must say good-bye to the four people who matter most to him: his Humphrey Bogart-obsessed next-door neighbor, Walt; his classmate, Baback, a violin virtuoso; Lauren, the Christian homeschooler he has a crush on; and Herr Silverman, who teaches the high school's class on the Holocaust. Speaking to each in turn, Leonard slowly reveals his secrets as the hours tick by and the moment of truth approaches.
---
This book really impacted me when I read it in my sophomore year of high school. I knew it was high time I reread Leonard with its discussion of the transition from high school to adulthood.
However, going into this book, I seemed to have forgotten just how dark it was. If you want a lighthearted book then you might want to pick something else. Matthew Quick says away from nothing in this book. That being said, it's a little difficult to discuss Leonard without giving away to much, so please forgive the vagueness of this review (it's probably best to go into this story with as little information as possible).
Review
"Maybe the P-38 will be a present for me when I unwrap it and shoot Asher Beal."
Forgive Me, Leonard Peacock is told within a period of 24 hours, but flashbacks are often used to help fill in the gaps in the story. I'm usually not a huge fan of stories with this chronology, but Quick pulled it together really well.
It is clear from the very start of this novel that something is not quite right with Leonard Peacock. As readers, we have yet to understand why he wants to kill himself and his childhood best friend. I can't really reveal the reason without spoiling a major aspect of the book, but all is revealed eventually.
Leonard himself is the driving force in this story, and it works remarkably well. He's an unlikable character for sure, but I somehow find myself drawn to him. Leonard is a (somehow) less annoying version of Holden Caulfield. Here, our protagonist hates the world, but his dissent seems somewhat reasonable. He certainly doesn't always do the right thing, but I still root for his happiness. I can definitely understand why some readers don't have the same capacity for the main character. Whether you like Leonard or not, he's still a very interesting perspective to read from.
Obviously, I have much love for the characters in this book. Leonard's teacher, Herr Silverman, was likely my favorite aspect of this story. Silverman teachers a Holocaust class where he often poses ethical questions and challenges his students. It's obvious that he truly cares about his students, and his impact of Leonard is immeasurable.
"You can't expect kids to save themselves, can you?"
Although there a few lighthearted moments, one section of the book always made me hopeful. The story is interspersed with "Letters From the Future" that are supposedly from Leonard's family in the future. There are certainly elements of darkness to these letters, but the overall tone offers hope towards the future. These letters also hint at Quick's flexibility as a writer. Each letter from individual future "characters" has a different voice, one that also differs from Leonard's tone as a narrator.
"You believe in the future now. It's easy for you, because you love the present."
In terms of writing, Matthew Quick takes a rather simplistic approach in his prose. Forgive Me, Leonard Peacock forgoes lyrical and flowery writing in favor of a more "no-nonsense" tone. This approach is well suited for this type of story, Although Leonard's character is often rude, brash, and abrasive, it would be inappropriate to handle some of this subject matter by bathing it in metaphors or over complicated words.
Overall, Forgive Me, Leonard Peacock is a hugely influential read that takes on some tough topics in modern culture. It's certainly not for the faint of the heart, but I would recommend it to anyone who can stomach some serious issues.
---
I first picked up this novel as part of an English project my sophomore year. The project that I chose involved creating a playlist for the book you chose. Connecting music and books is one of my favorite things and I wanted to share this with you guys!
Playlist
Happy Birthday by Altered Image
Bully by Three Days Grace
High School Never Ends by Bowling for Soup
No Place in Heaven by MIKA
From Eden By Hozier
Best Day of My Life (Major to Minor Cover) by Chase Holfelder
Dead! By My Chemical Romance
Coast (It's Gonna Get Better) by Patrick Stump
BONUS: Suit and Jacket by Judah & the Lion
It may be a silly little playlist, but I had so much fun making it years ago!
---
What are you thought? Are you interested in picking up this book if you haven't read it? And would you be interested in seeing more playlists from me in the future? This one was really fun to put together, especially for a book I love!
Until next time!
Ivy